Every Thursday, as part of my personal "enriched environment" initiative, I post a piece of art, usually from the Metropolitan Museum of Art, which recently released online some 400,000 high-resolution images of its collection.  All artwork will show a sun (or sunlight) somewhere. 
I won't name the piece or the artist, but instead invite you to study the art and post a comment addressing one or more of these questions:
What is going on in this picture?
What do you see that makes you say that?
What more can you find?
If you have another idea, run with it.
Special Update!  The New York Times website does this same exercise every Monday with a news photo that is uncaptioned and contains no text (click!).  The Times asks viewers the same three questions:
What is going on in this picture?
What do you see that makes you say that?
What more can you find?
However, at the end of the week, the Times posts the background information on the picture.  So, I've decided to do the same.  I'll still post an unlabeled piece of art on Thursday.  But return on Sunday (for the Sunny Sundays post!) and you'll find an update on the artwork here.
Note:  To embiggen the image, click on it! 
---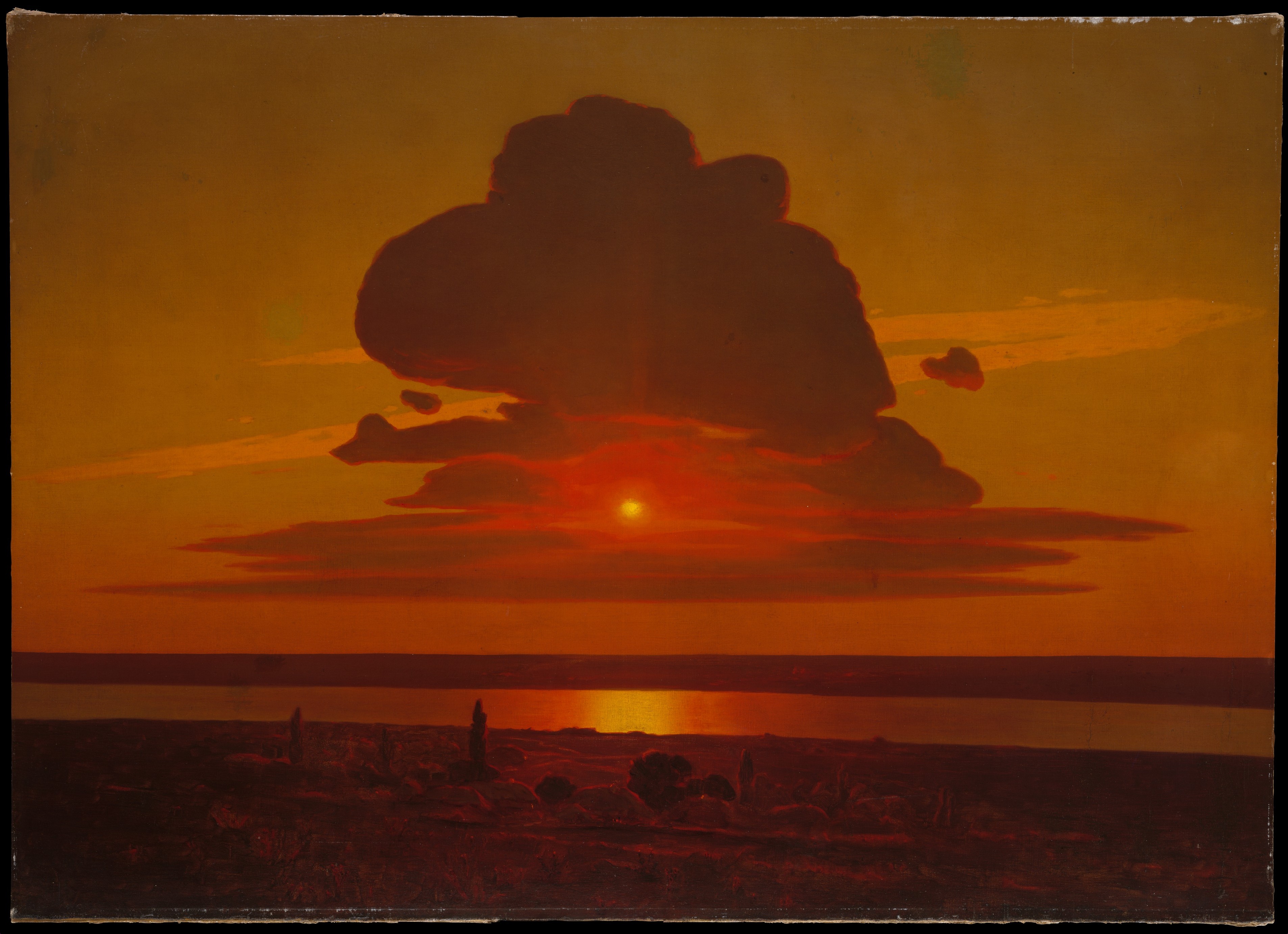 ---
Red Sunset on the Dnieper
Artist:  Arkhip Ivanovich Kuindzhi (Russian, Mariupol 1842–1910 St. Petersburg)
Date:  1905–8
Medium:  Oil on canvas
Dimensions:  53 x 74 in. (134.6 x 188 cm)
Arkhip Kuindzhi is considered one of the most talented Russian landscape painters of his generation. Born in Ukraine, he was associated during the second half of the 1870s with a group of Russian Realist painters known as the Wanderers. In the 1890s, he was hired to teach landscape painting at the Academy of Fine Arts but was later dismissed for sympathizing with student agitators. He ultimately founded his own painting society.
This late major painting is typical of Kuindzhi, who is best known for his large, nearly empty landscapes. The scene shows a sunset over the banks of the Dnieper, a great river that originates west of Moscow and runs far south into the Black Sea. The dark shapes in the foreground represent a cluster of thatched-roof huts, typical of the region.