Every Thursday, as part of my personal "enriched environment" initiative, I post a piece of art, usually from the Metropolitan Museum of Art, which recently released online some 400,000 high-resolution images of its collection.  All artwork will show a sun (or sunlight) somewhere. 
I won't name the piece or the artist, but instead invite you to study the art and post a comment addressing one or more of these questions:
What is going on in this picture?
What do you see that makes you say that?
What more can you find?
If you have another idea, run with it.
Special Update!  The New York Times website does this same exercise every Monday with a news photo that is uncaptioned and contains no text (click!).  The Times asks viewers the same three questions:
What is going on in this picture?
What do you see that makes you say that?
What more can you find?
However, at the end of the week, the Times posts the background information on the picture.  So, I've decided to do the same.  I'll still post an unlabeled piece of art on Thursday.  But return on Sunday (for the Sunny Sundays post!) and you'll find an update on the artwork here.
Note:  To embiggen the image, click on it! 
---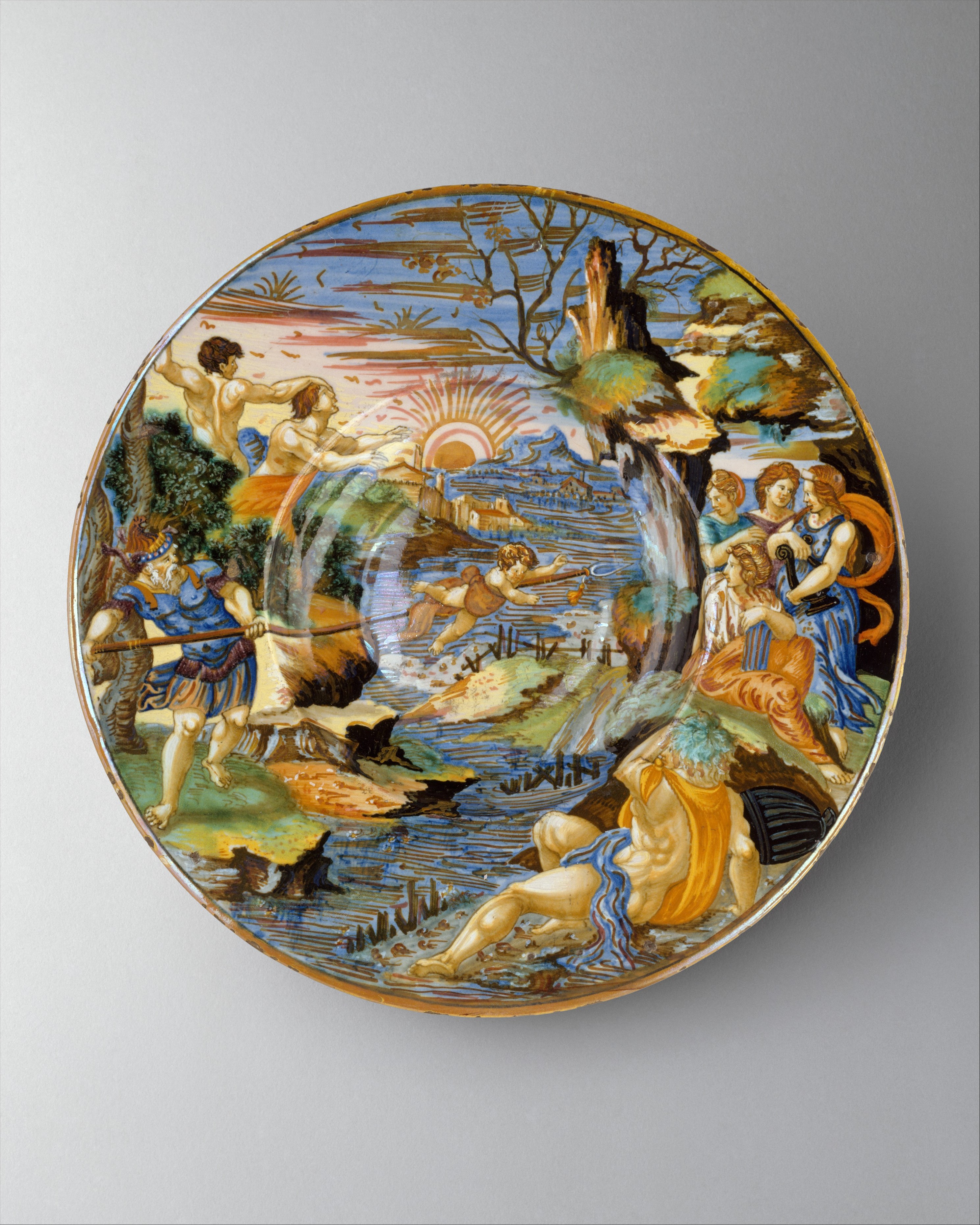 ---
Plate (tagliere)
Artist:  Francesco Xanto Avelli da Rovigo (Italian, Rovigo ca.1487–1542)
Date:  1539
Medium:  Maiolica (tin-glazed earthenware)
Dimensions:  Diameter: 11 11/16 in. (29.7cm)
Classification:  Ceramics-Pottery
On view at The Met Fifth Avenue in Gallery 950
---
Catalogue Entry
Xanto was a highly distinguished painter of Italian Renaissance maiolica, a refined tin-glazed ceramic. He worked in Urbino, a thriving center for the production of maiolica during its golden age – the first half of the sixteenth century. Xanto was a prolific artist, about whom we have an unusual amount of information due in part to his penchant for inscribing his pieces with his name, the date, and their place of production from 1530 to 1542. Xanto is also a fascinating figure in the context of Renaissance culture for his roles as a courtier and poet, who composed sonnets in honor of Francesco Maria della Rovere, Duke of Urbino.
Like other contemporary maiolica painters, Xanto decorated his wares with vibrantly colored narrative scenes (known as istoriato or "story-painting") and drew from numerous visual and literary sources. These subjects, often mythological, were derived from contemporary and classical literature. His dynamic figures and compositional arrangements were inspired by the engravings of the school of Raphael.
Painted with brilliant hues of yellow, orange, green, and blue, this plate was signed and dated by Xanto in 1539. It portrays Metabus' rescue of Camilla, a scene from Virgil's Aeneid (11.532-66), that Xanto depicted on several other maiolica pieces. Metabus, King of the Volscians, clad in armor at the left, has fled from his enemies with his infant daughter, Camilla, and reached the banks of the Amasenus River. To ensure Camilla's safe transport across the treacherous waters, Metabus entrusts her to the goddess Diana, and ties her to a spear, which he hurls with great force to the opposite shore, where Diana awaits with three attendants. A sculpturesque river god reclines in the water below and two additional male figures, whose identities are unknown, appear at the left. Xanto drew inspiration for all of the figures from various engravings, especially those of the prolific early sixteenth-century printmaker Marcantonio Raimondi. The winding Amasenus is flanked by craggy banks in the foreground and recedes into a distant vista of mountains, villages, and a luminous sunset. With Camilla suspended above, the river serves as the focal point of the composition and the dramatic action of the episode.