Every Thursday, as part of my personal "enriched environment" initiative, I post a piece of art, usually from the Metropolitan Museum of Art, which recently released online some 400,000 high-resolution images of its collection.  All artwork will show a sun (or sunlight) somewhere. 
I won't name the piece or the artist, but instead invite you to study the art and post a comment addressing one or more of these questions:
What is going on in this picture?
What do you see that makes you say that?
What more can you find?
If you have another idea, run with it.
Special Update!  The New York Times website does this same exercise every Monday with a news photo that is uncaptioned and contains no text (click!).  The Times asks viewers the same three questions:
What is going on in this picture?
What do you see that makes you say that?
What more can you find?
However, at the end of the week, the Times posts the background information on the picture.  So, I've decided to do the same.  I'll still post an unlabeled piece of art on Thursday.  But return on Sunday (for the Sunny Sundays post!) and you'll find an update on the artwork here.
Note:  To embiggen the image, click on it! 
---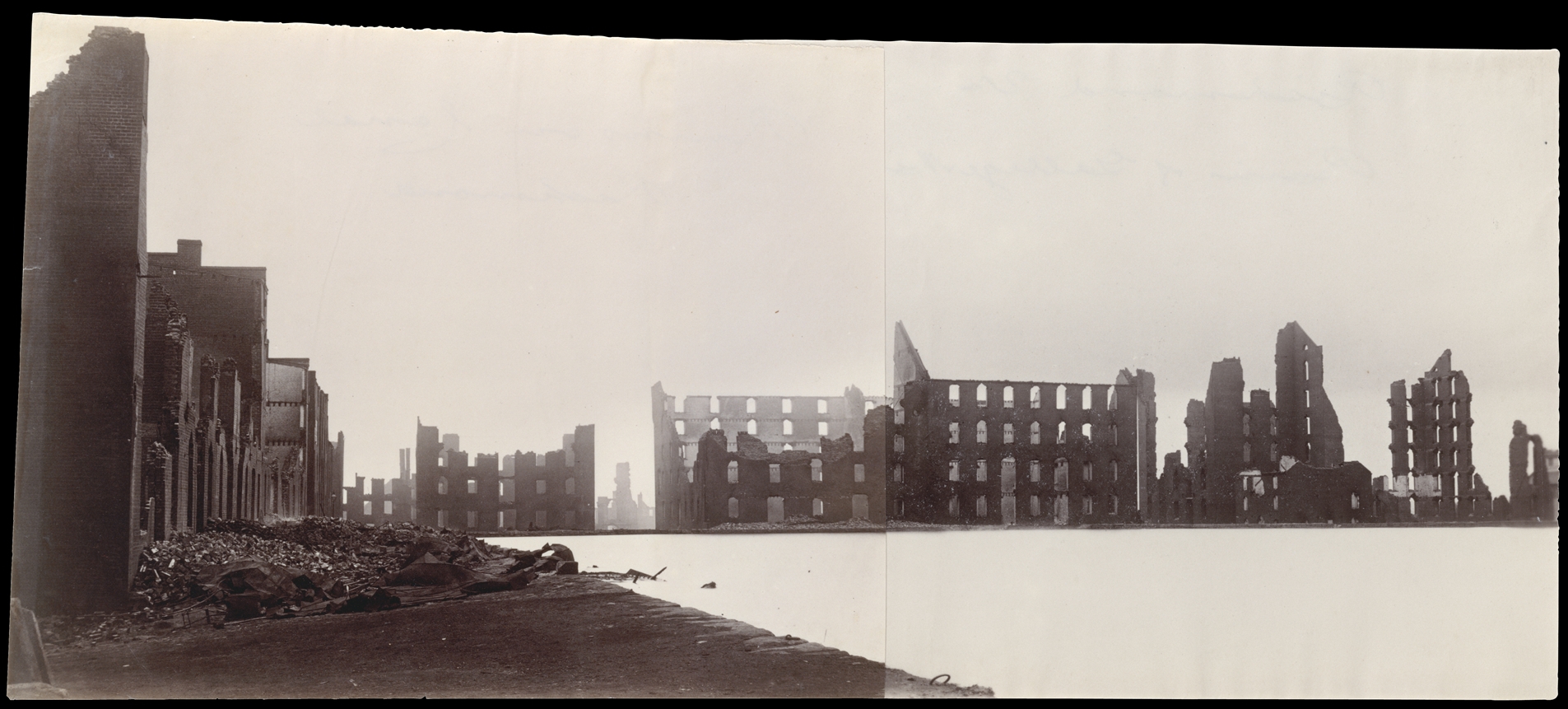 ---
Ruins of Gallego Flour Mills, Richmond
Artist:  Alexander Gardner (American, Glasgow, Scotland 1821–1882 Washington, D.C.)
Former Attribution:  Formerly attributed to Mathew B. Brady (American, born Ireland, 1823?–1896 New York)
Date:  1865
Medium:  Albumen silver prints from glass negatives
Dimensions:  16.3 x 36.9 cm (6 7/16 x 14 1/2 in.)
Classification:  Photographs
Description
In 1861, at the outset of the Civil War, the Confederate government moved its capital from Montgomery, Alabama, to Richmond, Virginia, to be closer to the front and to protect Richmond's ironworks and flour mills. On April 2, 1865, as the Union army advanced on Richmond, General Robert E. Lee gave the orders to evacuate the city. A massive fire broke out the following day, the result of a Confederate attempt to destroy anything that could be of use to the invading Union army. In addition to consuming twenty square blocks, including nearly every building in Richmond's commercial district, it destroyed the massive Gallego Flour Mills, situated on the James River and seen here. Alexander Gardner, Mathew B. Brady's former gallery manager, then his rival, made numerous photographs of the "Burnt District" as well as this dramatic panorama from two glass negatives. The charred remains have become over time an iconic image of the fall of the Confederacy and the utter devastation of war.