Every Thursday, as part of my personal "enriched environment" initiative, I post a piece of art, usually from the Metropolitan Museum of Art, which recently released online some 400,000 high-resolution images of its collection.  All artwork will show a sun (or sunlight) somewhere. 
I won't name the piece or the artist, but instead invite you to study the art and post a comment addressing one or more of these questions:
What is going on in this picture?
What do you see that makes you say that?
What more can you find?
If you have another idea, run with it.
Special Update!  The New York Times website does this same exercise every Monday with a news photo that is uncaptioned and contains no text (click!).  The Times asks viewers the same three questions:
What is going on in this picture?
What do you see that makes you say that?
What more can you find?
However, at the end of the week, the Times posts the background information on the picture.  So, I've decided to do the same.  I'll still post an unlabeled piece of art on Thursday.  But return on Sunday (for the Sunny Sundays post!) and you'll find an update on the artwork here.
Note:  To embiggen the image, click on it! 
---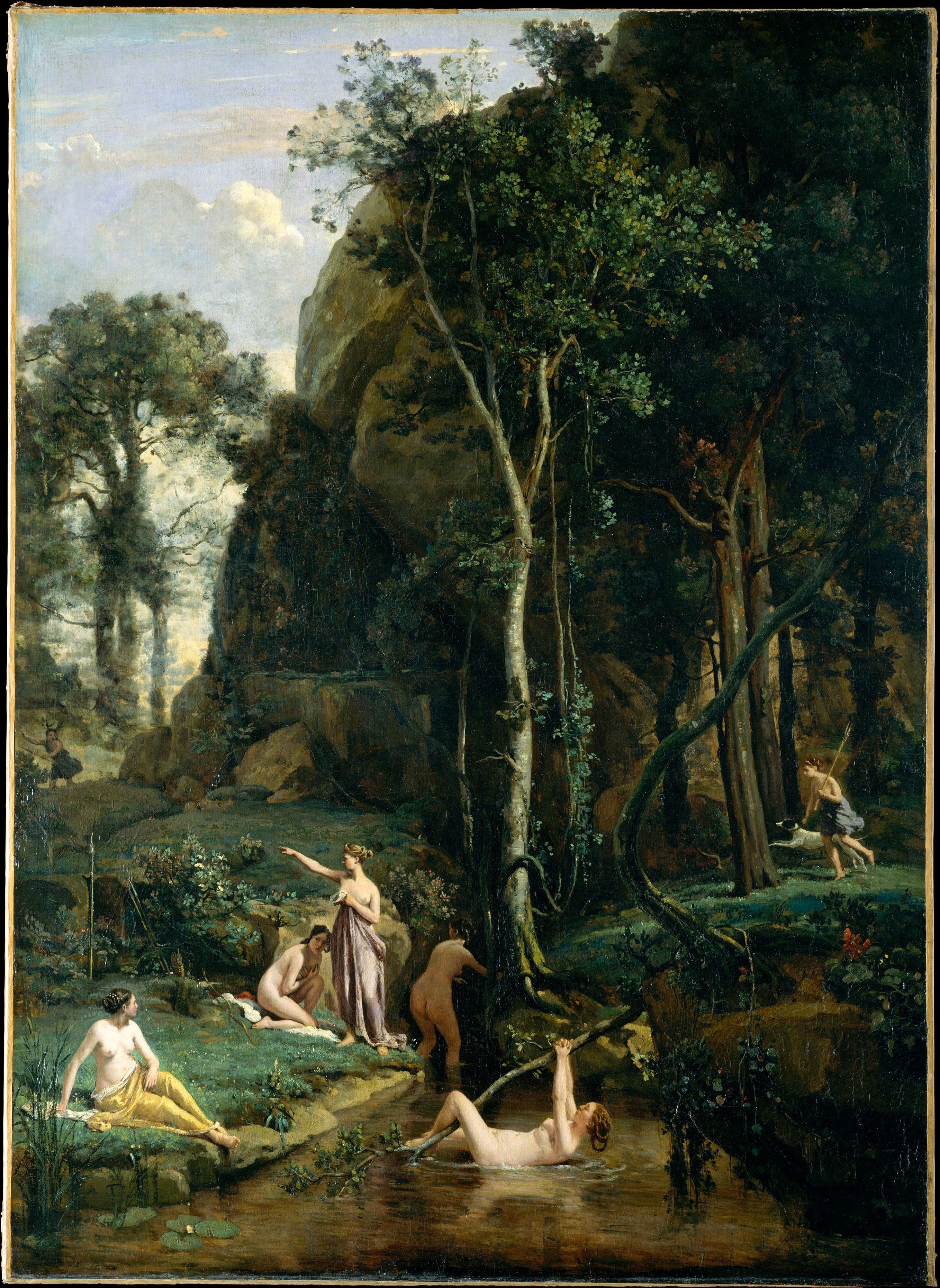 ---
Diana and Actaeon (Diana Surprised in Her Bath)
Artist:  Camille Corot (French, Paris 1796–1875 Paris)
Date:  1836
Medium:  Oil on canvas
Dimensions:  61 5/8 x 44 3/8 in. (156.5 x 112.7 cm)
Classification:  Paintings
On view at The Met Fifth Avenue in Gallery 957
From its imposing size to its refined execution, this painting is elegant testimony to Corot's ingenuity: the landscape appears surprisingly natural, yet it is painstakingly composed. The narrative, from Ovid's Metamorphoses, recounts the fate of a young hunter Actaeon as he encounters the naked figure of the goddess Diana and her nymphs enjoying a woodland bath. Diana, in a fit of embarrassed fury, splashes water on the unwitting hunter, transforming him into a deer.
There is a marked difference between the general tight handling of paint and tonal contrasts, and the background on the left, which is sketchy and silvery in tone, typical of Corot's late style. A year before the artist died, he was asked to repaint this passage as a courtesy to the picture's new owner.