Every Thursday, as part of my personal "enriched environment" initiative, I post a piece of art, usually from the Metropolitan Museum of Art, which recently released online some 400,000 high-resolution images of its collection.  All artwork will show a sun (or sunlight) somewhere. 
I won't name the piece or the artist, but instead invite you to study the art and post a comment addressing one or more of these questions:
What is going on in this picture?
What do you see that makes you say that?
What more can you find?
If you have another idea, run with it.
Special Update!  The New York Times website does this same exercise every Monday with a news photo that is uncaptioned and contains no text (click!).  The Times asks viewers the same three questions:
What is going on in this picture?
What do you see that makes you say that?
What more can you find?
However, at the end of the week, the Times posts the background information on the picture.  So, I've decided to do the same.  I'll still post an unlabeled piece of art on Thursday.  But return on Sunday (for the Sunny Sundays post!) and you'll find an update on the artwork here.
Note:  To embiggen the image, click on it! 
---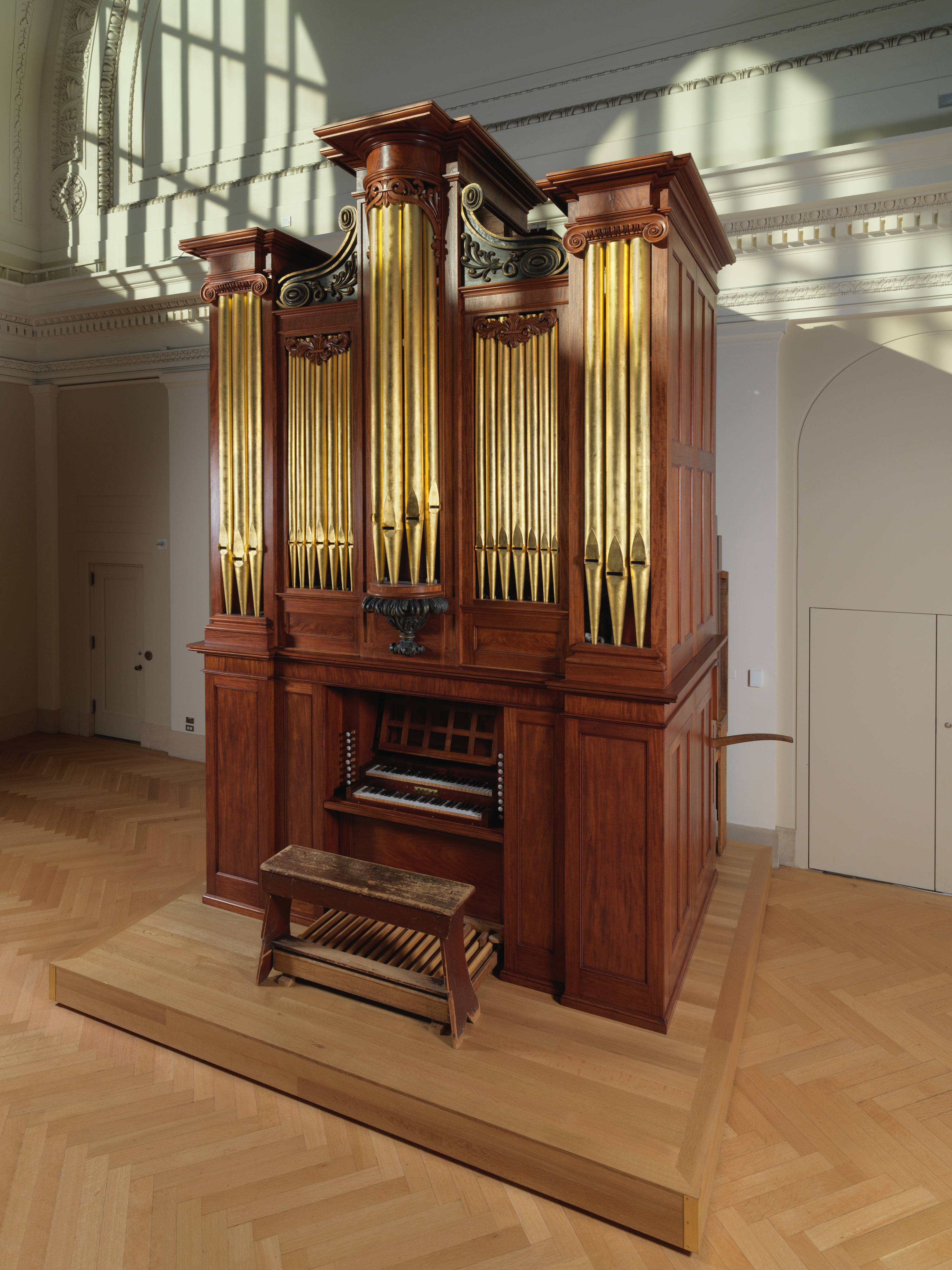 ---
Pipe Organ
Maker:  Thomas Appleton (American, 1785–1872)
Date:  1830
Geography:  Boston, Massachusetts, United States
Culture:  American
Medium:  Mahogany veneer, rosewood veneer, pine, gilt, ivory, ebony, maple, walnut, chestnut
Dimensions:  Height: 16 ft. 1 in. (490.2 cm)
Classification:  Aerophone-Organ
This organ is the oldest and finest extant product of the renowned Boston craftsman Thomas Appleton (1785-1872). Built in 1830, probably for South Church in Hartford, Connecticut, it was reinstalled by Emmons Howard in 1883 at Sacred Heart Church in Plains, Pennsylvania, where it was discovered unused and neglected in 1980. The organ's conservative tonal design and mahogany Greek Revival case reflect British models of the late 18th century. Standing over 15 feet tall, with gold-leafed façade pipes (diapasons), the organ comprises 16 ranks totaling 836 pipes, two 58-note manuals, and a 27-note pedalboard added when it was reinstalled (1883). Wind is supplied by hand- pumped bellows. The pipes of the upper manual are mainly enclosed in an elevated box with louvers that can be opened by means of a pedal for dynamic expression. The rest of the manual pipes are disposed above the recessed console, while the blowing apparatus and key and stop mechanisms occupy the lower part of the case. The pedal rank rests on a separate windchest behind the case. The tuning employed is Young temperament (1800) pitched at A=435.7 Hz.
Appleton's carving and joinery are particularly skillful. Before being hired by the prominent organ builder William Goodrich in 1807, Appleton had served an apprenticeship with the cabinet maker Elisha Larned, doubtless under the influence of his father, a house carpenter. Following a period of partnership with the piano makers Hayt and Alpheus Babcock, Appleton opened his own shop in 1820. In 1839 the Massachusetts Charitable Mechanic Association awarded him a gold medal, and his reputation continued to grow until he retired in 1869, by which time his numerous instruments were serving churches as distant as California and South Carolina.
Stop list:
Great (lower manual)
Open diapason 8'
Stopt diapason 8'
Stopt diapason bass 8'
Dulciana 8'
Principal 4'
Flute 4'
Twelfth 2-2/3'
Fifteenth 2'
Sesquialtera III
Trumpet treble 8'
Trumpet bass 8'
Swell (upper manual)
Open diapason 8'
Stopt diapason 8'
Stopt diapason bass 8'
(unenclosed)
Principal 4'
Hautboy 8'
Pedal
Subbass 16'
Couplers
Swell to Great
Swell to Pedal
Great to Pedal