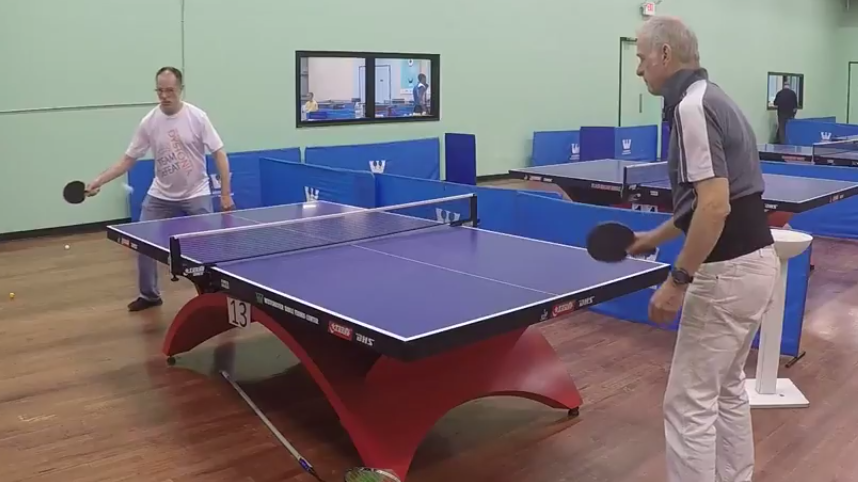 ---
I've written about (click!  click!  click!  click!  click!) and have been frequently attending the weekly Parkinson's night at the nearby Westchester Table Tennis Center.   About ten Parkies come each week, and the format is basically the same:  we do some stretching exercises, we watch two of the instructors demonstrate some basic moves at one of the ping-pong tables, then we pair off with an instructor for about 45 minutes of one-on-one instruction (sometimes two-on-one).  We close by being video taped, which we can watch later on YouTube, as a means of charting our progression.
I want to make two points now:
1.  The instructors couldn't be nicer or more helpful.
This week my teacher was Susan, who kept stopping our volley to show me how to better hold the racket and get better control of the ball.  I tend to whack the hell out of the ball with the full strength of my arm, sending it deep into the out-field stands like a crowd-cheering home run at Yankee Stadium.  Susan told me that if I held the racket and my arm at my side and instead twisted my torso to meet the ball, I wouldn't knock it into outer space so much.  It was very helpful advice.
2.  I feel great afterwards.
This was so clear this past Wednesday.  Those of us with Parkinson's know that you can often spend the day in an apprehensive fog, irritated and anxious about a dozen things, wanting only to be back home where you can relax and feel in control.  (I think this might be especially true for Parkies who still hold full-time jobs.)  I felt this way all Wednesday at work, and when I got home I considered throwing in the towel and just going to bed early.
But I drove the 20 minutes to the Table Tennis Center, and after an hour of playing ping-pong, I felt like a new man.  Upbeat, ready to reengage with all life has to offer, keen to throw myself back into all that I'm doing every day (gym, work, writing this blog, swimming, writing my novel, seeing friends….gosh I live a busy life!).
---
Who'd a thunk that playing ping-pong would produce such powerful results?   And it's almost great that I'm a beginner, because I spend so much time chasing after the balls that I smack halfway across the room, bending over again and again to pick them up, and focusing my attention on the ball once it's in play, keeping my eye on it while simultaneously trying to stay aware of how I'm tilting the racket, how I'm twisting my torso, how I'm going to position myself when my opponent sends the ball back my way.  I always end up with a sheen of sweat.
Up until now, I felt that to fight Parkinson's successfully, you had to lift massive weights at the gym, run an ultra-marathon, swim the English Channel, climb Mt. Everest.  But now I see you can get the same benefits from playing ping-pong.  Which, I suppose, displays a prejudice on my part, thinking that ping-pong wasn't a serious sport.
Now I know differently.